Interview with Bootsy from Cinemassacre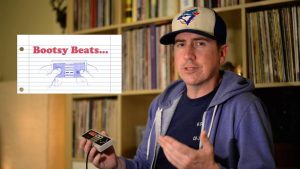 After our interview with Mike Matei of Cinemassacre, click here for the interview, Mike suggested we interview his good friend Brendan, better know as Bootsy Spankins or "Bad luck Bootsy".  So, Bootsy was cool enough to answer all of our questions below.
DBPG: How long did it take for your hand to recover after that silver surfer play through
Bootsy: Oddly enough, that game is tiring on the entire arm. I use a "spastic" approach that starts in my upper arm and works its way down. The hand was just fine!
DBPG:How much play doh did you wind up eating in the Splat video?  How many takes did you need for that?
Bootsy: No play doh was actually eaten in the Splat filming. I had to chew on it to make it look convincing, and it was salty and disgusting. I was happy to put my head through a Topple board in "Donut Disaster", but I wasn't going to trivialize my intestines for "Splat".
DBPG:  How many instruments do you play?  Do you do all of the composing on the original songs for Board James?  Does James play the drums with you on any?
Bootsy: I play a number of instruments, but not all of them very well. Guitar, ukulele, and drums are the main ones. I've written all of the Board James songs except for "Shark Attack" & "Splat" – those were the actual jingles. They're so memorable that we felt we needed to stick to the actual songs there. James and I haven't played or recorded music together. We don't live close to one another, so it would be a huge hassle if we tried.
DBPG:  Neither of us can sing to save our lives.  Did you have any vocal training or were you born a good singer?
Bootsy: I was in chorus in 8th grade and we were forced to sing songs from the Lion King soundtrack. That was the extent of my training. I wouldn't say I was born a good singer at all, I just kept working at in my own time to get to the point where I didn't feel like I was embarrassing myself.
DBPG:  Mentioned in a video before that you are a big coffee drinker, how much cups would you say you down each day?
Bootsy: I worked as a campaign manager for a political campaign last year, and I drank way too much coffee – like 4 or 5 cups a day, which is a lot for me. It was a stressful job. But normally, I'll drink about 10oz a day. I try to limit my caffeine intake because I hate being kept awake at night. I enjoy the Kona blend from Wawa (a convenience store chain in the northeast) whenever they have it.
DBPG:  Shark attack video – where did you find that 1920's swimsuit?
Bootsy: We were supposed to film that episode on the beach, but there was a huge storm that day on the Jersey Shore, so that victorian bathing suit doesn't make much sense in retrospect. I found it for cheap on some costume store website, I think.
DBPG:  You are a beast when it comes to hard NES games.  Are there any games from your childhood that you still cannot beat after all these years?  Are there any modern games that you have trouble with?
Bootsy: This will be a disappointing answer, but I don't play video games very often and I hardly own any. As a kid, I could never beat the ending to Double Dare on NES, but I just borrowed it from Mike Matei recently, and I finally did it. The only modern games I'm familiar with are the Rockstar games Red Dead Redemption and GTA V, both of which I loved. I got 100% completion in Red Dead, but in GTA V, I got wrapped up in the online portion before I could get to 100% completion. I haven't played a modern game since, though, unfortunately.
DBPG:  Ever have any drunk gaming nights with James, Mike and the boys?  Any favorites when it comes to brews?
Bootsy: We're all very busy, so when we get together, it's for work purposes. In the rare event that we get to drink, it will only be for a couple of beers. With that said, I tend to keep it simple with Miller Lite or Yuengling Lager. When it comes to craft brews, I lean towards IPAs. My favorites include Heavy Seas Loose Cannon IPA (Clipper City Brewing Company), Jai Alai (Cigar City Brewing), and Pinner Throwback IPA (Oskar Blues Brewery).
DBPG:  In the Donut Disaster video? Also who came up with the infamous "like my coffee like I like my women…with my dick in them" line?
Bootsy: It's a line that my friend Dan said to me several years ago as a joke, and I always loved the brilliant absurdity of it. It seemed very relevant to the Bad Luck Bootsy character and the situation of the episode, so I was able to use it. I get the credit for it because I say it onscreen, but I didn't think of it. Thanks, Dan!
DBPG: What kind of equipment do you use when making the songs?  Any brand loyalty?
Bootsy: I used whatever instruments that were lying around the studio at those times. Each song has a different feel, so they needed different instruments – whatever worked in the moment. For personal use, I really love older Alvarez acoustic guitars and Lanikai ukuleles.
We want to say thanks again to Bootsy and be sure to check out his new series, Bootsy Beats, on
Cinemassacre
!